This winter has been hard on this mom. I've noticed that under my eyes my skin was getting more dry, puffy and tired looking then it has ever been. I needed some miracle cream without breaking the bank.
I've read several articles via Pinterest about coconut oil and it's benefits which led me to the blog, One Good Thing by Jillee. She had a simple eye cream recipe that I couldn't wait to try.
I bought the two ingredients (organic coconut oil and vitamin E capsules), did some melting and mixing and viola! I have the best DIY Homemade Eye Cream that is gentle and homemade, but very effective. I've seen a big difference in just a couple weeks.
It may be cold and snowy outside, but my eyes look like they've been on vacation in the tropics!
DIY Homemade Eye Cream
What you will need:
1/2 cup Organic coconut oil (Coconut Oil acts as a moisturizer, antibiotic, multivitamin, multi-nutrient and antioxidant.)
6-8 Vitamin E capsules (Vitamin E Oil is a strong antioxidant that prevents premature aging and promotes healing.)
Pin to poke holes in Vitamin E capsules
Small microwavable bowl for microwaving or small sauce pan for melting on stovetop
Small container (to store cream in)
Optional: Frankincense Essential Oil (here is where I buy) – it helps rejuvenate skin and can get rid of fine lines and wrinkles.
Instructions to make:
Put the coconut oil into a small bowl and microwave for 15 seconds or heat in a small saucepan over low heat for a few minutes until melted into liquid form.
Pour the liquified oil into your container.
Poke holes into your Vitamin E capsules and squeeze vitamin liquid into your oil while stirring. (Optional: Add 10 drops of Frankincense Essential Oil.)
Place the filled containers in the refrigerator for less than an hour until the liquid returns to solid form. After it turns to a solid, there is no need to keep it refrigerated. The oils will not become rancid.
Instructions to use:
At night, dab a small amount of this best anti aging eye cream ever under your eyes and be prepared to look younger, brighter and extra tropical in the morning.
I sometimes use a bit in the morning too. Just give it 10 minutes or so to soak into your skin before applying makeup.
This cream can also be used as an eye-makeup remover. Enjoy!
You may want to check out some of the best anti aging masks to supplement your DIY eye cream.
Note: If you are allergic to coconut oil, coconuts or vitamin E, do not use.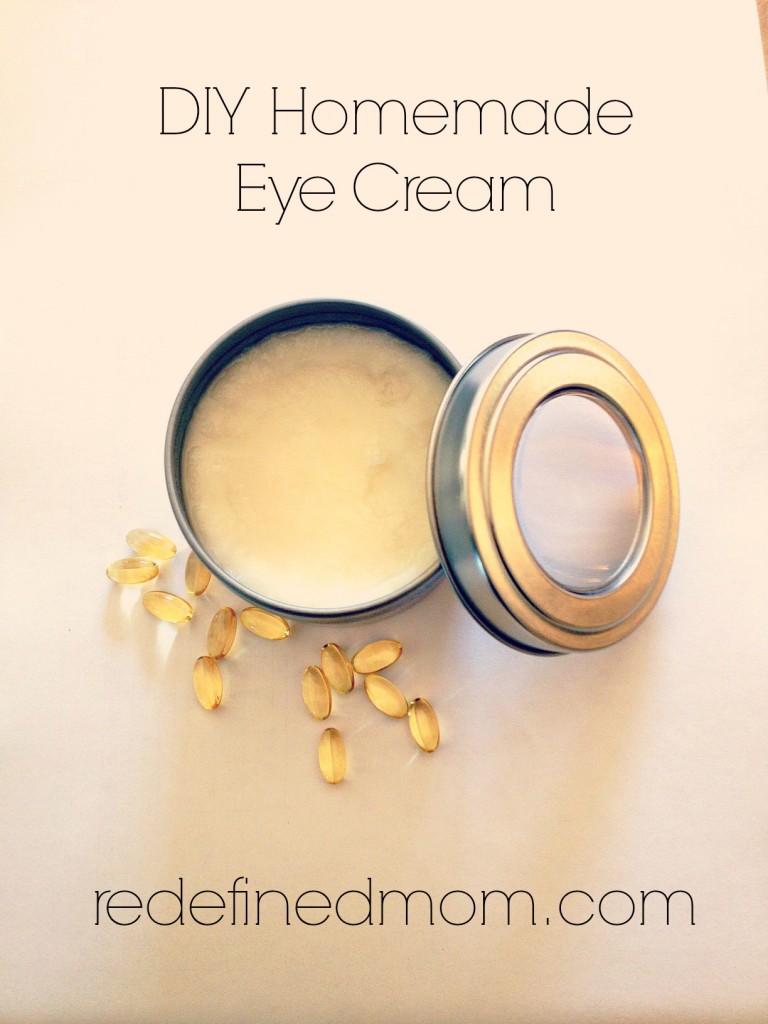 And don't forget to check out
DIY Homemade Makeup Remover Pads
.
Want more information like this? Be sure to follow my
Hair, Makeup and Beauty Board on Pinterest
.
Follow Kelly Snyder's board Hair, Beauty & Makeup on Pinterest.
Becca Wilkinson has a creative "need" and will do anything to avoid laundry. She writes over at Cul-de-sac Cool about design, DIY/crafts, easy eats, family, funny experiences and of course, motherhood. Becca wants to spread happiness, helpful tips, pretty things and funny experiences throughout the land. She is the proud mother of three boys and married to her college sweetheart. In her past life she was a graphic designer. Becca has learned a lot these past years about juggling boys, blogging, family and suburban life.