It has been a HOT and HUMID summer.
Don't get me wrong, it's usually HOT and HUMID in Kansas City during the summer. But this summer, it has been especially STICKY.
The kind of STICKY that after you work out or have been to the pool and take a shower, you start sweating again, and wonder if a shower was even worth the effort.
I struggle with this STICKY cycle because I have dry skin and even on a humid summer day, I need lotion on my legs and back. In the winter, this isn't a problem because traditional lotions absorb quickly. But in the summer, it takes FOREVER for the lotion to absorb. So I'm either waiting an extra 20 minutes or trying to get dressed while my clothes stick to me. And don't even talk to me about jeans…there is no amount of jumping around that can get my sticky legs into them.
In the past, the solution has been … no lotion and accept "ashy-looking" skin. Bleh.
When I was sent the new Vaseline Intensive Care Spray Moisturizers for review, I will admit the concept intrigued me. However, I didn't think it would be "that different" than traditional bottled lotion. But as a self-described beauty junkie, I always love trying a new product.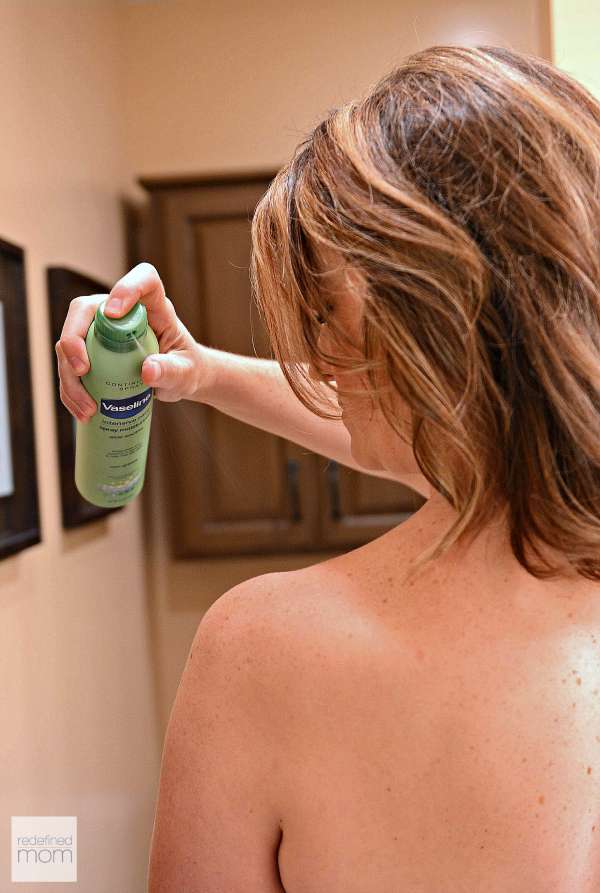 The Vaseline Intensive Care Aloe Soothe Spray Moisturizer is a continuous spray lotion, that contains micro-droplets of Vaseline Jelly, which moisturizes your skin and absorbs in seconds. Because it absorbs so quickly, your skin feels soft and not sticky or greasy. It really is the fastest absorbing lotion I've ever used…which is pretty amazing in this 97 degrees with 80% humidity weather. The "stick" factor that I experience with most traditional lotions was non-existent. I was able to put on my sun dress, jeans, or shorts without an issue.
I'm not sure if this would be a "must-have" product during the winter months, but for the next few weeks of "dog days of summer", it will come in handy when I need my moisturizer and I'm trying to get out the door in a hurry.
And now you get the chance to experience Vaseline Intensive Care Aloe Sooth Spray Moisturizer for yourself because I'm giving away (1) Vaseline Intensive Care Spray Moisturizer Gift Set to a lucky RDM reader.
How to Enter The Giveaway:
It's super easy! Just either click on the image above or click on THIS LINK to get entered. Giveaway will end on August 3, 2015. Good Luck!
This is a sponsored conversation written by me on behalf of Vaseline. The opinions and text are all mine.