Ladies, men won't tell you there's a problem.
Your best friends have noticed, but they're avoiding confrontation at all costs.
Meanwhile, people at the gym have ogled, snickered, and kept on CrossFitting without letting you in on the secret.
Luckily I lost my filter when I turned 40, so I'm going to come right out and say it:
You are wearing the WRONG underwear with your yoga pants!
It's an epidemic, peeps! I've seen WAY too MUCH of WAY too MANY ladies at school pick up, the grocery store, sports practices, and the movie theater.
And I get it…we don't look at ourselves before we leave the house in our yoga pants. Why would we? We save butt-looking-at for jeans, dresses, and swimsuits. These are yoga pants. They get thrown on because we are having a "fat-day" or "just running an errand."
Right?
WRONG!
I'm here to preach! Without the right underwear, we ladies, in our yoga pants, can end up in public looking like two pigs fighting for space in a one-person pen. It isn't pretty. And it sure ain't right.
Why The Right Underwear For Yoga Pants Is Important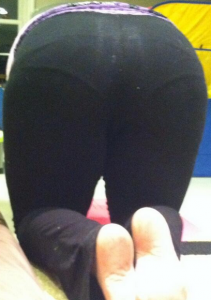 1. Yoga pants show EVERYTHING.
Let me rephrase; cheap yoga pants show everything.
Thin-material yoga pants will reveal every panty line on your body…hips, butt, stomach, and crotch (yes, I said crotch, get over it, I hate the word ,too). And contrary to popular belief, yoga pants are not a substitute for Spanx. Think about it, yoga pants are comfortable and you wear them to watch movies. Spanx are reserved for weddings and you rip them off the minute you get home.
2. Unless you are a glitter kitty who spends countless hours at the gym and thousands of dollars at the plastic surgeon, your butt is not the same as a Victoria's Secret model's.
Most of us, however, do not have perky posteriors. We have saggy butts. A perky butt stops about nine inches from the lower back; a middle-age butt stops about two feet. Unfortunately for middle-agers, underwear that are two feet long and super sexy do NOT exist. Which means our underwear is stopping before our butts are finished. That's never a good thing because it leads to…
3. Table-ass.
Table-ass is real and it is scary.
It happens when your underwear doesn't cover your entire butt and "cuts-in" to your skin leaving an indentation. Said indentation can be striking enough that it looks like there is a shelf or table from the end of your underwear to where your butt starts again. Table-ass may also be referred to as table-stomach and table-hips.
It doesn't discriminate; it just looks bad.
So how can we prevent these yoga-pants problems? Easy peasy. Buy the…
Right Underwear For Yoga Pants

1. Buy the right underwear.
The absolute right underwear for yoga pants is the Lacie Thong Panty from Victoria's Secret. It's perfect for three reasons:
First, it is a lightweight lace that lies incredibly close to the skin and stretches to accommodate any body size. This solves the elastic and heavy cotton from cutting into you and creating offensive table-ass.
Second, it's a thong, so there are no panty lines.
Third, it's affordable.
If you've tried thongs before and had no luck, I'm here to tell you…you were wearing the wrong thong. I've convinced so many of my non-thong girlfriends to give the Lacie Thong Panty a shot and they've become believers. That's right. THEY HAVE CONVERTED.
However, if the thong is just TOO MUCH, then look into the Hanky Panky Boy Shorts.
(But promise me you'll get just ONE PAIR of the Lacie Thong Panties to try them out.)

2. Buy quality yoga pants.
Remember, yoga pants are not Spanx. If you don't purchase a quality pair, you can end up showing WAY TOO MUCH to the guy in the parking lot while bending over to put groceries in your car. When buying yoga pants, look for the extra panel in the crotch area (yes, I said it again) and solid material. The material should stretch, but not too much. They are still pants.
I'm a HUGE fan of Athleta for quality yoga pants at affordable prices. If their prices are too high for you, look into 6pm for deals on top brands like Nike or New Balance. And finally, there are flash sales on Rue La La and Zulily that feature top brands at up to 70% off retail. Make sure to sign-up for their emails, because sales on athletic wear tend to sell out quickly.
Yoga pants are here to stay (Shoot, I did a whole post on What is Athleisure?). As an item that can be worn at least three times per week, often in public, it's time to invest in some decent undies to go with them.
Remember, we don't have to be Victoria's Secret models to wear yoga pants, we just need to wear their undies.
What do you think? Have you noticed the wrong UNDERTHINGS being worn with yoga pants (or just the wrong yoga pants in general)? Do you believe a right underwear for yoga pants exists? Leave a comment and let me know.